ES Escalator & Elevator Parts Company is a professional supplier of the Escalator Spare Parts since 2006, and we spread to elevator spare parts supply from 2018. The new business of elevator component is what we are strongly expanding in 2019.
Our key members have over 14 years' work experience in Escalator Industry. We possess a global view of the Escalator and Elevator Maintenance and Service Business.

Our Parts:
Sourcing from OEM factory, Standard: EN115:2012, ASME 17.1.
Technical Support:
Development and production experience of escalator parts for more than 14 years , as well as component modernization capability.
Our Strength!
We provide service to
THYSSENKRUPP
/
OTIS
/
KONE
/
SCHINDLER
branches' maintenance department and local escalator & elevator service company in more than Thirty-five counties & regions.
Our spare parts are used in Metro system and International Airport in different counties. (RATP, MTR, HKIA, Cairo Metro, STM).

Served Brand:
CNIM
/
THYSSENKRUPP
/
HITACHI
/
KONE
/
MITSUBISHI
/
OTIS
/
XIZI OTIS
/
SCHINDLER
/
TOSHIBA
/
FUJITEC
/
HYUNDAI
/
SJEC
/
LG
/
CANNY
…
Strategy: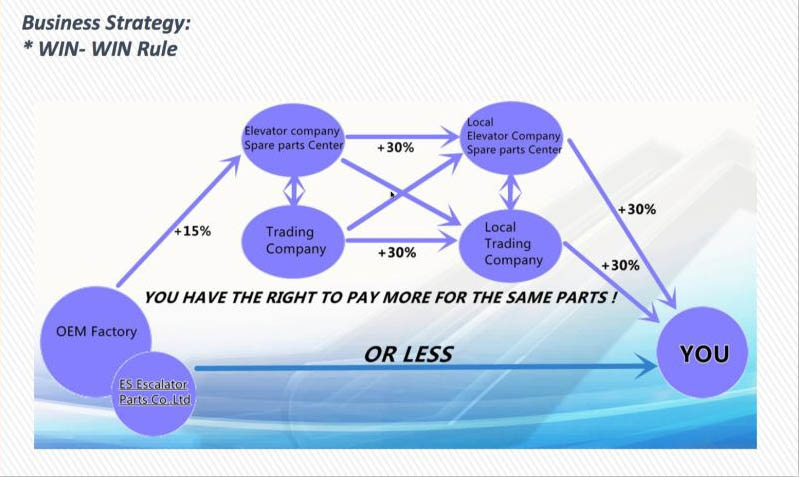 Products Range:
Escalator spare parts:
Step, Step chain, Comb plate, Demarcation, Newel roller, Wheels, Handrail, Balustrade, Eletrical component etc.
Elevator spare parts:
Button, PC board, Door vane, Hall call, Safety light curtain, Inverter, Traction machine...
Elevator Components:
Geared traction machine, Gearless traction machines, Guide rail, Cop lop, Door operator, Light curtain, LCD display, Cabin decoration, Control cabinet, Compensation chain, Traction system, Safety components.

For more details, please visit our Web site:
www.es-escalatorpart.com
. There are more than 15000 spare parts that may interest you.