More than 10 million cases of COVID-19 have been diagnosed worldwide. In public places, how to prevent the infection of new-type coronary pneumonia has become a topic of global concern.
In public places such as shopping malls, airports, hospitals, office buildings, etc., the population is dense, the flow is large, and the air circulation is poor, especially the common equipment such as escalators, moving walkways, and elevators are places where people are concentrated. As we all know, for safety reasons, you will grab the handrail when riding an escalator or moving sidewalks. However, when a large number of people come into contact, the handrail becomes an important way to directly contact the virus and spread the virus. In order to prevent cross-infection of viruses, we have proposed many methods of prevention, disinfection and sterilization. How to disinfect the handrail effectively and conveniently? Today, I will introduce you to the UVC handrail sterilization module introduced by ES escalators and elevator Parts. Use the wavelength band of 250~275nm in UVC to make the vertical distance between the light emitting surface and disinfection surface of the lamp less than 25mm, the irradiation area reaches 100*50mm, and continue to disinfect the handrail.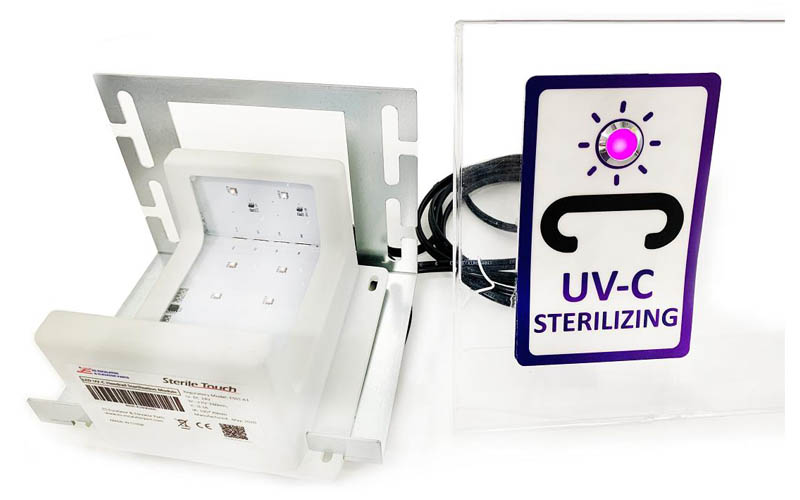 > Our Sterile Touch,by its de sign of surrounding the handrail,and appearance perfectly reflect this technology capability of high sterilization.
>
Aesthetic Exterior Appearance LED UV-C light,Sapphire glass lens.
>
Display of Normal Operation can be seen clearly on the skirt of the escalator.
>
Indicator of good operation show by a LED and positioned in the center of the handrail sterilized tag.
>
Easy to check during inspe ction and mai ntenance of your escalator.
>
Easy to understand for the final use r of the escalator that it is a sterilized handrail.
>
Easy And Safe Installation
>
Tag your LOGO
>
Patent number: 202030217052.0、202020792369.1

Report On Germicidal Efficiency